CADENABBIA
E. W. Longfellow- Summer 1872
No sound of wheels or hoof beat breaks
The silence of the summer day.
As by the loveliest of all lakes
I while the idle hours away.

I pace the leafy colonnade.
Where level branches of the plane
Above me waves a roof of shade
Impervious to the sun or rain.

At times a sudden rush of air
Flutters, the lazy leaves o' erhead
And gleams of sunshine toss and flare
Like torches down the path I tread.

By Sommariva's garden gate
I make the marble stairs my seat,
and hear the water as I wait
lapping the steps beneath my feet.


The undulation sinks and swell
Along the stony parapets,
and far away the floating bells
tinkle upon the fisher's nets,

Silent and slow by tower and town
The freightened barges come and go,
their pendent shadows gliding down
by town and tower submerged below

The hills sweep upward from the shore
With Villas scattered one by one,
upon their wooded spurs, and lower
Bellagio blazing in the sun.

And dimly seen a tangled mass
Of walls and woods of light and shade,
stands beckoning up the Stelvio Pass
Varenna with its white cascade.

I ask myself is this a dream?
Will it all vanish into air?
Is there a land of such supreme
And perfect beauty anywhere?


Sweet vision! Do not fade away;
linger until my heart shall take
into itself the summer day,
and all the beauty of the lake.

Linger until upon my brain
Is stamped an image of the scene;
then fade into the air again,
and be as if thou hadst not been.
GRIANTE
STENDHAL: "LA CHARTREUSE DE PARMA" description di GRIANTE

Everything is noble and delicate, everything speaks of love, nothing reminds the ugliness of civilisation. The villages placed halfway up the hills are sheltered by trees, and above the tops of the tree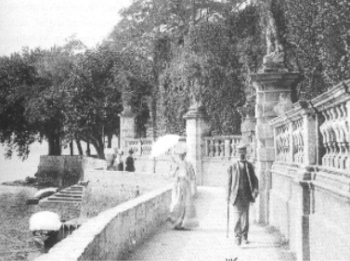 s rises the fine architecture of their slender bell towers. If, from time to time, some small fields, fifty yard wide, interrupt the "bouquets" of chestnut and cherry wild trees, the satisfied eye sees the plants growing happier and more vigorous then anywhere else. Beyond these hills, which host some hermitages where everyone would like to live, the enchanted eyes discover the picks of the Alps, always covered with snow, and their majestic austerity reminds the strife of life, and this increases the voluptuousness of the present hour.
The imagination is moved by the far away twinkling of a bell, coming from some small village hidden under the trees; and the sounds brought by the water that sweeten them, assume the colour of soft melancholy and meekness that seems to tell men:" life passes by quickly, do not be reluctant towards the happiness that comes to you, reach out and enjoy it." The language of these enchanting places, that have no equal in the world, gave back to the Countess' heart the feelings of when she was sixteen.